The boy was such an easy baby. He started sleeping through the night (six hours) when he was about six weeks old. And he would wake up to eat with a smile on his face. His belly laugh started early and it was a joy to tickle him. He was so easy that I wanted another one. Right away. And so we did. Eighteen months later. She was more reserved but also an easy baby. And I wanted another one. Right away. But it was not to be. Another story for another day.
Every parent with teen aged children know that each stage in a child's growth and development comes with it's own set of challenges. And every parent is proud of their children. This parent will use her little corner of the internet to speak out about it because I can.
We were talking about the soccer game at which he was the referee. He said that he had to "Speak to one of the coaches about yelling during the game."
I stopped mid-task, whatever it was. My mouth was agape. I said, "You did what?"
You see, I try to raise the boy to always respect his elders. The coaches were adults. He's 15 after all.
He said, "Yeah, she was really being obnoxious but she piped down after that."
Me, confusion followed by this incredulous question, "What did you say?"
"I said, ma'am I'm the ref and what I say stands so can you please stop being so vocal about every call I make?"
He said "ma'am" and "please."
I was like the Grinch when he heard the Whos in Whoville start singing even when all of their Who gifts were taken. His heart started to grow…my heart started to grow and I smiled, Grinch-like, even as I had more questions.
"What kind of calls were you making?"
At this point his dad stepped in and said, "It doesn't matter. She should know that the referee runs the game and she shouldn't be questioning him."
Boys, they stick together. And I saw his dad's chest puff out a bit I think.
If you have been reading this blog a while you will I know that I also write about the challenges of raising children this age. It's not a cake walk, I know that. Through it all, I call on three constants to get me through.
First, prayer. Oh do I ever pray. I pray for them as they walk out the door to school every day. I pray before they get on the football field or on a horse. I pray when they leave in other people's cars and I pray when they are at other people's houses. I pray when they are in my back yard. I pray when they get upset at me and go to their rooms and blast their music.
Because it's been known that the husband and I will sometimes make unpopular decisions.
And when he is one of the kids asked to represent on stage during his youth group…I know that my prayers are answered.
Secondly, you will need a sense of humor. If you don't have one, you may as well hang it up now. Really. My sense of humor at times fall on the sardonic side and there may be some who don't "get" it but you know what? My boy always "gets" me. He will protest "Mom!" Then he'll do that belly laugh.
I don't know why he has a napkin around his head.
And finally…love. I just love that boy. No explanation needed.
You have all three as a parent and the kids have no chance…it's a deadly combination.
Have a super and safe Halloween weekend. Let love reign.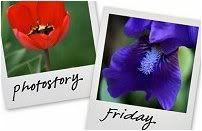 Hosted by Cecily and Carissa
This may be my last photo of fall…
Or maybe not. Have fun this weekend…boo!
I just had a garden salad for lunch and I washed it down with some water…with regard to my lunch hour, there's nothing gourmet about it. However, an office-mate was making a lunch run…so I placed an order for a chocolate chip cookie.
As I wait for my cookie to arrive, I decided to play along with my bloggy friend Michelle's tutorial on iHeartfaces today. Hopefully no one is looking for me:)
Michelle's site was the one that prompted me to change my own template last summer. I had a difficult time getting it running but that's not her fault and she certainly supported me, thank you Michelle! Okay, back to the tutorial.
Michelle created such a dreamy and wonderful look to her photo and I had to follow along. There were so many new techniques that I didn't know and have wondered "How'd they do that?"
Here is the before photo…it's nice as is but the whole point is to learn something new.

I followed each step and though I have a different version of Photoshop, I was able discern the little differences between the two versions.
Here is the finished product. It's not exactly like Michelle's but it's close enough. It's the look I am recently hooked on…the dreamy soft look. It's the way I've been feeling lately.
But it's not the season for soft and dreamy. Rather it's the spooky, scary season. I don't always like to be scared so it's not my favorite time to year truth be known. However, I do try to play along as best I can so I don't look like a party pooper.
So I decided to edit a photo with my other bloggy photographer friend, Laura at dolcepics. I thought perhaps I can use some of the same techniques to make something scary as well. As it turns out, Laura had the perfect play along photo this week.
This photo is an old building in Montreal. I loved Montreal. I joined the husband there for a week while he was on business. I didn't want to leave…mais non! They speak nothing but French, it's wonderful, like France in North America.
Anyway, the photo. I wanted to make this building a scary mansion.
Using just the Adjustment Layers on the layers palette shown on Michelle's tutorial, I created this. Monstrosity? Anyway, it scares me. I didn't put a texture on it though one would certainly have been appropriate. The building is a little light and I wanted to do an edge burn…but my cookie is here.
It crazy how the same techniques can create two very different feelings. I love this art called photography. Go to iHeartfaces to follow along yourself. It's great fun!
Michelle also started a great new photo sharing site called OpenScrapbook. I'm a member, you should be too! And to get to Laura's Plays, cliquez ici si vous plait.
Thank you ladies, you rock.
I've written before on how wonderful this  man is. Neighbor Kel is really handy. He can do just about anything.
One of the things he does really well is tile. He's so careful, so detailed. I once posted a poll to see what you thought about the tile I chose for the bathroom. You hated it. So I didn't ask a second time. Miss Shannon and I went shopping and we both agree on this chocolate tile with glass inserts.
And that's final.
As it turns out, Neighbor Kel started a new job last Monday. A great job. A job he for which he has been waiting a long time. But the bathroom isn't done yet.
How dare he?
So perhaps he can finish it when he has some time off, when the government and the aviation industry doesn't need his expertise, when he's done with his twelve hour day. I'm a patient woman.
I know it's premature…but it's on its way.
I turned on the news last weekend and I thought, "What a weird news day."
My boss asked me if I thought that the parents of the Balloon Boy made up the entire story for 15 minutes of fame. My answer was, "I can't believe that anyone would be so duplicitous."
How wrong was I? The little Balloon Boy's mom came out and said it was a hoax. Really? Geez.
Now here's a story I liked. Apparently when men do more housework around the home, there is more passion in the marriage. Alrighty. They had to do a survey to determine this? This is great incentive for you men out there.
And the story that got me the most. The pilots who apparently fell asleep (or something) and missed their destination by 150 miles. Oh boy.
I snuck into the cockpit to take photos. Kiddddinggg…I was given permission by an unknown pilot. Who was not sleeping.
I asked the husband if it was possible to overfly the destination airport. He couldn't think of a circumstance that would play out in that manner. And he's an…airline pilot. We don't know what happened and we may never know…however, whatever the situation, I do believe the pilots involved will probably not fly again. It just doesn't happen. But it did happen. It's just so weird. They will be the only ones who know for sure I guess.
Could it be because the kids put the wrong pubs into their mail boxes?
Nah. Child labor that's what this is.
The husband said he couldn't wait to get out of the airplane on his last trip. Every single passenger had to stick his head in the cockpit and say, "You're not going to fall asleep are you?"
He said, "Everyone is a comedian." You have to admit, it's kind of funny. Even for the 1,000th time. That is if you are not the pilot.
I'm not a good flyer so I have to have a lot of confidence in the training and character of the people who fly us. Most importantly, I have to have enough confidence for people to fly my kids. We never go anywhere without Joker. That horse has garnered more frequent flyer miles than any horse. Ever.
The two hottest words in our household right now? WAKE UP!
Actually, I'm the admirer. luvplubishing is the subject of my admiration. I have found a new artist to emulate.
Check out her photostream on flickr. It's like a daydream.
More fall foliage before it leaves us. Pun not intended.
Mary of Mosaic Monday did her mosaic using an MCP action and it reminded me that I had the same one. I know I've been posting a lot of leaves lately. I just want to remember them during the cold dark winter months.