The boy was such an easy baby. He started sleeping through the night (six hours) when he was about six weeks old. And he would wake up to eat with a smile on his face. His belly laugh started early and it was a joy to tickle him. He was so easy that I wanted another one. Right away. And so we did. Eighteen months later. She was more reserved but also an easy baby. And I wanted another one. Right away. But it was not to be. Another story for another day.
Every parent with teen aged children know that each stage in a child's growth and development comes with it's own set of challenges. And every parent is proud of their children. This parent will use her little corner of the internet to speak out about it because I can.
We were talking about the soccer game at which he was the referee. He said that he had to "Speak to one of the coaches about yelling during the game."
I stopped mid-task, whatever it was. My mouth was agape. I said, "You did what?"
You see, I try to raise the boy to always respect his elders. The coaches were adults. He's 15 after all.
He said, "Yeah, she was really being obnoxious but she piped down after that."
Me, confusion followed by this incredulous question, "What did you say?"
"I said, ma'am I'm the ref and what I say stands so can you please stop being so vocal about every call I make?"
He said "ma'am" and "please."
I was like the Grinch when he heard the Whos in Whoville start singing even when all of their Who gifts were taken. His heart started to grow…my heart started to grow and I smiled, Grinch-like, even as I had more questions.
"What kind of calls were you making?"
At this point his dad stepped in and said, "It doesn't matter. She should know that the referee runs the game and she shouldn't be questioning him."
Boys, they stick together. And I saw his dad's chest puff out a bit I think.
If you have been reading this blog a while you will I know that I also write about the challenges of raising children this age. It's not a cake walk, I know that. Through it all, I call on three constants to get me through.
First, prayer. Oh do I ever pray. I pray for them as they walk out the door to school every day. I pray before they get on the football field or on a horse. I pray when they leave in other people's cars and I pray when they are at other people's houses. I pray when they are in my back yard. I pray when they get upset at me and go to their rooms and blast their music.
Because it's been known that the husband and I will sometimes make unpopular decisions.
And when he is one of the kids asked to represent on stage during his youth group…I know that my prayers are answered.
Secondly, you will need a sense of humor. If you don't have one, you may as well hang it up now. Really. My sense of humor at times fall on the sardonic side and there may be some who don't "get" it but you know what? My boy always "gets" me. He will protest "Mom!" Then he'll do that belly laugh.
I don't know why he has a napkin around his head.
And finally…love. I just love that boy. No explanation needed.
You have all three as a parent and the kids have no chance…it's a deadly combination.
Have a super and safe Halloween weekend. Let love reign.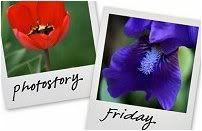 Hosted by Cecily and Carissa