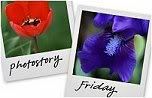 Hosted by Cecily and Izzy 'N Emmy


After an "early dinner" we went to a "late breakfast." We tried to get on the senior's schedule but it was hard. We have two teenagers. There was only one place to go to breakfast in that area, Steve's Diner. It's the kind of place I like, great food and great prices. I wish we could have stayed for dinner too. The country fried steak sounds good.
It was a place run by a first generation American who's obviously loves what he does. And the food is fantastic, did I say that already?
But part of the charm is that Mr. Steve runs his place like he runs his home. With a tight fist. This patron behind Frank was having a discussion with Mr. Steve about seating arrangements when Mr. Steve finally yelled, "Then sit on the floor!" Which caused the husband to both cringe and laugh at the same time.
This waitress rushed by yelling at Mr. Steve, "You're killing me!"
I love it. After breakfast the husband takes out his wallet to pay and was told that they only accept cash. Which then forced Frank to break out his wallet too. It's an authentic atmosphere for sure.
And the food? Lots of it, homemade and delicious.
The husband was praying over the food while I was snapping photos. Lord forgive me.
And my little girl? Well, she can eat. Just like her mamma and her grandma. She ordered two huge (I mean huge) pancakes, a breakfast sandwich on a bagel and some hashbrowns. She also ate some of my steak. Yes, I ordered a sirloin steak with two eggs. I have to step up my cardio workout this week.
When it was all over with,all that was left was this lone breakfast biscuit.
The next time I complain about my weight, I want you to slap me.